About Krasnodar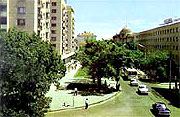 The street Mira
Krasnodar is the center of the Krasnodarsky kray (region). The city is situated on the Kuban river and has a population of 631,000. Krasnodar was founded in 1793 and was known as Ekaterinodar until 1920. Oil processing and the building of oil-production machinery are the main industries of the city. There is a chemical plant as well as fur manufacturing in Krasnodar. It is the center of the ancestral region of the Kuban Cossacks.
A Foreign Affair

7320 N Dreamy Draw Drive
Phoenix, Arizona 85020
(602) 553-8178
FAX (602) 468-1119

Contact Us



THIS PROGRAM IS THE SOLE PROPERTY OF A FOREIGN AFFAIR AND MAY NOT BE COPIED IN ANY WAY OR FORM WITHOUT EXPRESS PERMISSION FROM A FOREIGN AFFAIR.

© COPYRIGHT 1996-2023 - ALL RIGHTS RESERVED.